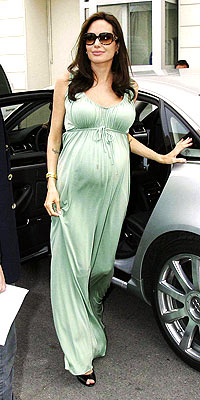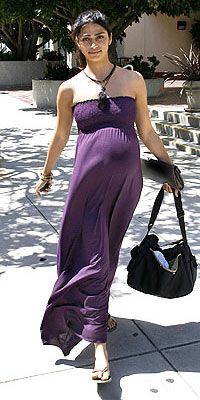 Time flies when you are in your third trimester. Before you know it, the third trimester went and... LABOR! Beautiful baby Byron was born July 3. :)
July 5: For moms looking for post-partum fashion (not to mention trying to look your very best with very minimal sleep), take a cue from
Angelina Jolie's maternity style
. Maxi dresses became my new best friend. These worked wonders from third trimester to my post-partum days. I thought these dresses put in a lot of instant-glam to an other-wise un-glam period where sleep and taking a shower in the morning became luxuries. At least the outfit made me looked pulled together, plus the soft jersey knits are really comfortable on a recovering body.
July 15: Shopping on a tight baby budget (you know, those designer-strollers cost quite a lot in 2008 dollars!), I discovered the beauty of Forever21.com. Forget about the end-of-season sale at Barneys or Bergdorf Goodman... for clothes that are baby-spit friendly AND won't break your bank, go for the
Forever21.com
website. Prenatally I tried to shop at the store but was too overwhelmed with its crowdedness and chaos. The website is conveniently there for you 24/7, plus they accept refunds (which the stores don't).
July 20: The constant bouts of nursing Byron made me aware of the need of a good nursing bra. What can I wear underneath all my breezy summer dresses? My lactation consultant informed me of La Leche League, a non-profit group that supports and advocates the benefits of breastfeeding. One of the beauties of LLL, aside from giving valuable advice in the art of breastfeeding, is that it sells a
great collection of nursing bras
that are not found in your mom-and-pop maternity stores. A strapless bandeau number is a life-saver, and it goes well all my strapless jersey dresses (and maxi dresses). Wacoal also makes a soft
nude bralette
(it's not a nursing bra, however) that provides extra comfort day and night.
July 30: My husband and I are bringing Byron to his one-month pediatrician visit! How exciting. Where to put his bottle, diapers and all the doo-das that are associated with outing with an infant? Forget about the squarish, boxy diaper bags! Towards the end of my third trimester I discovered the wonders of
Pret A Portobello.com
. Selling fashion and accessories directly from vendors of London's famed Portobello Market, I scored a lovely gold leather braided hobo bag. (The style is currently sold out, but the vendor make a fabulous grey leather number that's roomy enough to hold your essentials.) The bag fits everything from Byron's diaper changer, to his bottles, to my lunch whenever I'm on-the-go. Why be typical when you can be different? And while we are at it, don't forget to wrap your little one in
Aden & Anais
soft cotton muslin wraps. These work wonders as swaddling blankets, make-shift baby bed linens, everything!
Motherhood is a wonderful and exciting time to learn about yourself, your family, and your new joy-in-your-life. Baby Byron brings a lot of joy to my husband and I everyday. I also learn something new from him daily even though he's only 4 weeks old!
Ladies, I hope you've enjoyed this maternity fashion series. Motherhood is a challenge but there's no reason you should abandon who-you-are, fashion-wise!
Photos from top: Angelina Jolie in Alberta Ferreti Maxi Dress, Camila Alves in Nui's Cotton Jersey Dress, Pret A Portobello Leather Bag, Maxi Dress from Forever21.com, La Leche League Strapless Nursing Bra.
Photo source: People.com, Pretaportobello.com, Forever21.com, Lalecheleague.org.