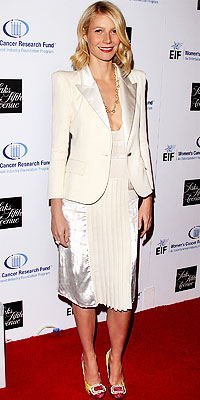 If you follow fashion (which you do, that's why you're reading this blog), you'd know that the hottest designer as of late is Balmain. Designer Christophe Decarnin vowed insiders with his couture tailoring with a cool rock-n-roll vibe. His spring 2009 opening look - a military jacket with exaggerated shoulders and tattered jeans -has literally been photographed to death by all the fashion mags. And now, there's a cult celebrity following wearing the now-iconic shoulders in the rendering of tailored jackets or sequined minis.
Come this fall, you can own a piece of this Balmain cool without breaking your wallet. High street retailers such as H&M and Zara have delivered Balmain's brilliant shoulders in smartly tailored jackets and black minis. Our favorite? A black double-brested jacket from Zara's Fall 2009 collection. Worn cuffed up, you can wear the iconic cool without needing all that drama.
Photos from Top: Gwyneth Paltrow wearing Balmain, Zara's Fall 2009 lookbook, Balmain Spring 2009 Opening look, a look from Balmain Fall 2009.
Photos source: Style.com, Instyle.com, Zara.com.